I've been challenging myself to upping my healthy eating, and decreasing my sugar (or my cheats) drastically. Sunday is usually the day where I allow myself more wiggle room, but for a season I've decided to tighten my game a little…and for me that's sticking to the low carb, no sugar lifestyle.
I even started a private Instagram account where I take pictures of every single thing I eat. How long I'll do it, I'm not sure…but for now, it's super great to keep myself accountable. It's also a fun little challenge to get better at food photography.
Yesterday I was having serious cravings for a blue box of mac and cheese. The virtues of eating mac and cheese includes spiking your blood sugar, gives you literally zero nutrition, pads your waist line, and fills your body with dyes and gluten. So I grabbed a cauliflower and this was the magic that came out of my kitchen. Serves 2.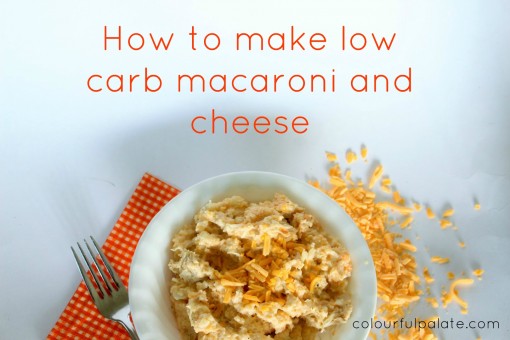 Low Carb Macaroni and Cheese
2-3 cups finely processed cauliflower (about a 1/3 of a large head)
1/2 cup grated cheese*
1/4 sour cream
1tbsp. light cream cheese
1 tsp. sriracha sauce (opt)
1/2 cooked chicken
1/2 tsp. Pink sea salt
Pepper, to taste
*I used a mix of cheddar and mozzarella
First process the cauliflower (I used 1/3 of a very large head) in a food processor (I used an S-blade) until the cauliflower resembles small grains of rice. It should yield 2-3 cups of cauliflower.
There a couple ways you can cook the cauliflower, one is super quick and requires a microwave (which I know some people are super against) and other is a frying pan. So instead of starting a debate, you can just pick your preferred method.
To use the microwave: Place in a microwave safe bowl and cover with plate. Cook for 8-10 minutes (I did 9 min). Add the chicken and cream cheese in the last couple minutes.
To use the frying pan: Place cauliflower in a hot frying pan (with a little coconut oil or butter) and cook until just beginning to brown. Add the chicken and cream cheese in the last couple minutes.
Add the rest of the ingredients and mix with a spoon. The cheese will melt within seconds. Serve hot.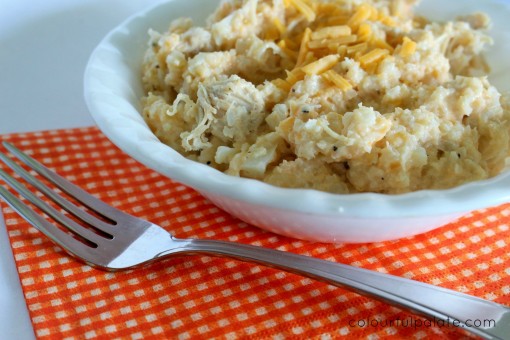 I ate this served with copious amounts of sriracha sauce because I like it spicy…and if ketchup is a temptation, this hot sauce is a great replacement…and all that hotness can make your metabolism jump!
Nutritional Info (per serving): Cals: 283, Fat: 18g, Sodium: 740mg, Carbs: 9.5g, Fibre 3.5g, Sugar: 3.5g, Protein: 21.5g
Note about nutritional info: The information may not be exactly perfect, but it's pretty close. I'm human which makes me fallible, so information has a chance of being a little off.
If you want to keep updated with all my posts, you can subscribe here!
Were you that child who loved mac and cheese? Have you grown out of it?
You might like these recipes:
Category: Gluten Free, Low Carb, Main Dishes, Protein, Recipes | Tags: gluten free mac and cheese, how to make low carb macaroni and cheese, thm friendly main dishes, thm mac and cheese recipe 2 comments »