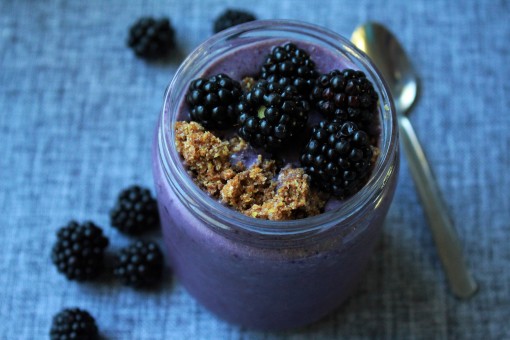 There are lots of changes happening lately. I have this habit of keeping my life always spinning…I'm always somewhere new and doing something different. While I love my lifestyle, I notice that this blog is always the first place to suffer. Needless to say, the last few months have been crazy. Once things slow down a bit, I'd like to do an update soon…
…but for today, I'd like to share my newest smoothie. I love transforming sugar-filled desserts into healthy smoothies, so when I found myself with an abundance of blackberries in my fridge I decided to do a healthy take on a blackberry crumble dessert.
Vega sent me a kit of smoothie love with Silk almond milk and protein powder to celebrate the "back to school" (or for me, going to work) season. I love how easy it is to quickly throw things in the blender and take a smoothie on your commute. I'm trying to make this my "ride to work" habit. It doesn't have to be complicated. Simple is the name of the game with Vega smoothies.
Get your blender ready! Serves 2.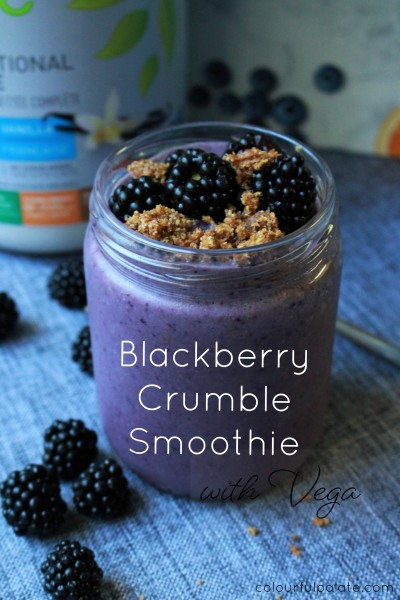 Blackberry Cobbler Smoothie
3/4 cup fruit herbal tea*
1/2 cup Greek yogurt**
3/4 cup almond milk, unsweetened
1 serving of French Vanilla Vega protein powder
1 cup frozen blackberries
a few ice-cubes
 Smoothie Topping
1 tbsp. organic coconut oil, melted
1 tbsp. organic coconut sugar
1 tbsp. organic coconut flour
1 tbsp. organic flax seed, freshly ground
fresh blackberries
*I chilled it the night before
**If you want to keep this recipe vegan, there are some great vegan coconut yogurts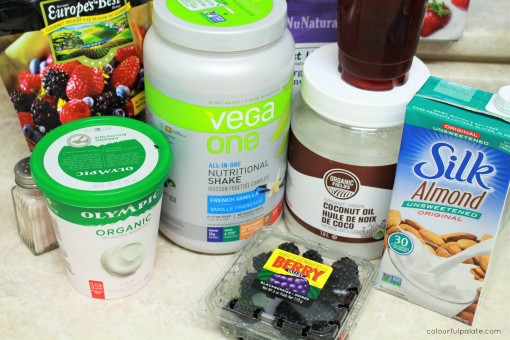 Blend all your smoothie ingredients together. Pour into two glasses.
Mix the smoothie topping together with a spoon. Make sure to grind the flaxseed fresh (I used a small coffee grinder – it works great!) as often pre-ground flaxseed will be rancid and taste a little bit "off".
Sprinkle the top of the smoothies with the "crumble" topping and fresh blackberries. Serve! This is a great after-dinner dessert as well!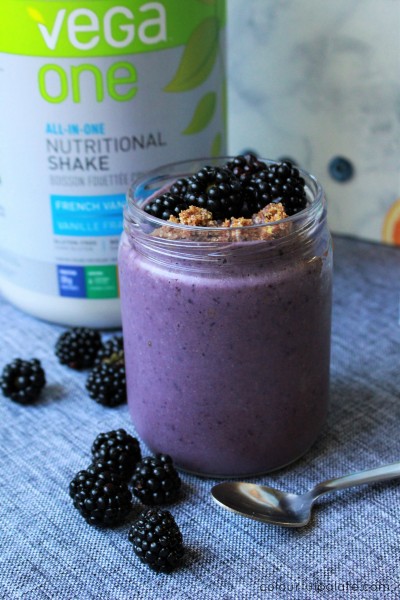 What is your favourite berry? What is your go-to dessert (I'm in the mood to make more dessert inspired smoothies – so inspire me!)?
Disclaimer: This post was not a paid promotion, but product only. Vega has been one of my favourite brands for years and I'm always happy to promote their amazing products.
Save
Save
Save
You might like these recipes:
Category: Breakfast, Desserts, Gluten Free, Low Carb, Protein, Recipes 4 comments »