Hey guys…it's great to be back after an awesome weekend!
For those of you don't know I sing in a family band. Once the busy season picks up we're gone pretty much every weekend. Sometimes we go on long tours up to two months and sometimes it's just day trips…nonetheless it keeps us pretty busy. Singing is my passion! So that's why this is a little late.
Now to the delicious part of the post…
I just made this fruit salad the other day and I was so wowed with it…I just HAD to share it with you! Immediately following a workout I enjoyed it…and it was so refreshing!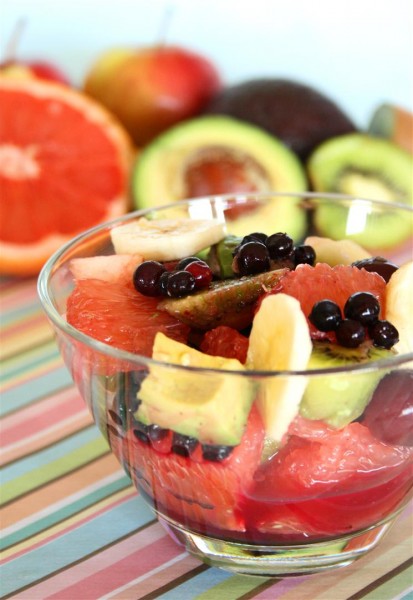 I choose some of my very favourite fruits…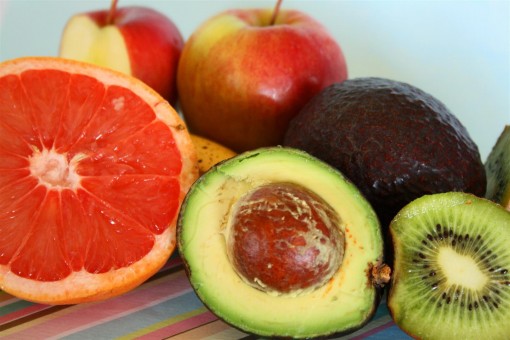 Exotic Fruit Salad
Banana
Avocado
Grapes, frozen
Wild blueberries
Grapefruit, sectioned
Kiwi
Apple
Lime juice
Pineapple juice
I simply sliced the amount of fruit I wanted, tossed into a bowl, and drizzled with lime and pineapple juice. Ahhhh-mazing. I thought about adding some yogurt to the mix, but I opted to go with the natural fruit juices instead…so good.
Posting these pictures makes me can't wait to make it again! Hope you enjoy!
Oh, and I also wanted to give a shoutout to my friend Katie at Dashing Dish…she just got her whole website redesigned and some amazing new features happening! She has awesome recipes, fitness routines, and devotionals over there that you NEED to check out!
What's your favourite addition to a fruit salad? I just LOOOOVE the addition of avocado and grapefruit…mmmmm!
You might like these recipes:
Category: Breakfast, Dairy Free, Recipes, Snacks, Vegan | Tags: best fruit salad recipe, exotic fruit salad, fruit salad recipes, how to make fruit salad, superfood fruit salad, unique fruit salad 5 comments »