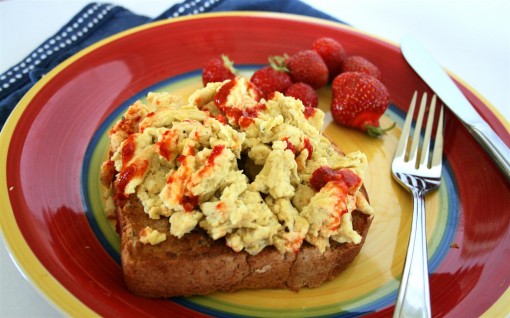 I feel like I can finally say that eating protein isn't a problem for me anymore. Of course, some days are harder than others to get it in…but I'm finding it SO much easier. And I feel better! My blood sugar levels are much more stable. I'm finding that with pairing a protein with every meal and snack makes me much more satisfied…I'm not craving food as much, because I'm not as hungry. And here's the biggie! I'm not succumbing to sweets as much.
A couple days ago my thoughtful sister brought me home one of my favourite chocolate bars. I actually managed to refuse it and told her to enjoy it instead. Me! Refuse chocolate! It's a miracle. Of course, not sure that protein has anything to do with that remarkable example of will power.
I love starting the day with protein. Here's one of my favourite dairy-free egg scrambles. The nutritional yeast gives it just a subtle cheddar flavour, which I love. For one and a half tablespoons of nutritional yeast it has 8g of protein, which is another reason I like to add it to my meals (plus, it has a ton of B vitamins which help give us energy!).
Eat Clean Egg Scramble
1 egg
¼ cup egg whites
1 ½ tbsp. nutritional yeast
2 tbsp. almond milk
Sprinkle of organic cayenne pepper
Sea salt and pepper to taste
Whisk all of the ingredients up in a bowl. Cook in your frying pan (lightly mist it with olive oil). Serve on whole wheat toast with hot sauce or salsa. Serves 1.
Nutritional Info: Cals: 144, Fat: 6g, Sodium: 190mg, Carbs: 6g, Protein: 20g
This week will be a flurry of crazy fun activity…my brother, his wife and their nine kids (yes…nine!) are having their vacation time with us for a week! We're going to hike, tube down the river, play games, do volleyball, eat watermelon, and hopefully sleep in, lol! The softball tournament (SO much fun) this weekend and then playing volleyball all afternoon & evening after church yesterday has left me a little…sleepy.
But this is what summer is for, right?
What do you enjoy starting your day with? Any fun ideas for this week with all my nieces and nephews?
You might like these recipes:
Category: Breakfast, Dairy Free, Gluten Free, Recipes, Vegetarian | Tags: dairy free scrambled eggs, egg, egg dishes, protein, scrambled eggs 11 comments »