First of all, I should be tarred and feathered. I said I've had a new post up for you yesterday, and I didn't. I had to go on a day trip somewhere, that brought me home around 12:30 a.m. So that is my excuse. I will try to be a better blogger in the future….once I am able to attend some seminar that tells me how this is possible. Ha.
Mango Strawberry Protein Shake
So….anyway, most of you know that I'm making it a lifestyle change to include protein in all of my meals. I am the the carb-o-holic and yet, miracles of miracles, I've switched over to becoming fond of protein.
Why? I feel better. It keeps me feeling more full. It helps me stay slim. My muscles recover better after a workout. My blood sugar levels stay more stable.
Now, this is when I really make an effort to have more protein in my diet. It's still a struggle…but I'm getting better at it.
One of the ways that really helps me get that protein in is smoothies. It's fast, easy, and after a good morning workout, my body really craves something cold and refreshing.
So today, I thought I'd share 5 of my favourite, healthy protein shakes with you. Just in case you need to shake things up a bit! Keep in mind that you can use whatever protein powder you want. I use all sorts of kinds…hemp protein, vegan protein powder, and whey protein. I do stay away from any powder than includes soy, because I think soy is bad, bad.
Sweet Tart Protein Smoothie (one of my faves!)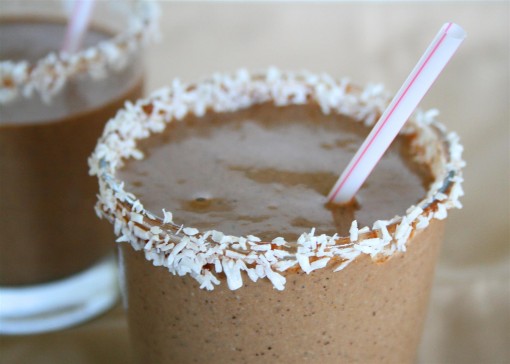 Chocolate Coconut Protein Shake
Healthy Coffee Frappuccino (for this one, just add a scoop of vanilla whey protein powder – SO good and very low cal!)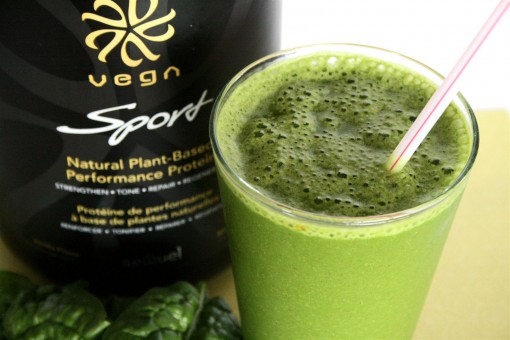 Supercharged Green Vegan Protein Smoothie (a great daily breakfast smoothie)
All of these smoothies are great for post-recovery after a good workout or as meal replacements! Enjoy!
You might like these recipes:
Category: Drinks & Smoothies, Protein, Recipes, Weight Loss | Tags: body sculpting protein shake recipes, bodybuilding protein shake recipes, healthy protein smoothie recipes, post workout smoothies, protein shake recipes, recovery shake recipes 6 comments »