Do you ever have a moment where you suddenly, with a strong sense of urgency, realize that you need chocolate…like NOW? The feeling doesn't crawl upon you slowly; it's like a zero to sixty emotional response. I know. It's intense, right? This is much too common in my life, but I don't mind. Chocolate and I never need a reason to be together. (I hear you…you're thinking I need therapy – that's okay. I think so too, which is why I eat chocolate. It really is therapy.) I should move on to the point, before you press the x in the corner of your screen.
Introducing Chocolate Snack Balls for instant chocolate happiness! Please, when I need chocolate like…now…don't give me a recipe which has you freeze a fudge for 30 minutes or bake it for an hour (plus oven heating time!!!). No, no, no. It must be now or never. Those recipes are for when I feel grown up and patient. This is my sister Anne-Marie's recipe, who loves chocolate just as much as I do. This makes a dozen largish balls.
Annie's Must-Have Chocolate Snack Balls
¾ cup organic peanut butter (or almond butter is great too!)
2 tbsp. honey (I prefer maple syrup, but both are good)
2 tbsp. maple syrup
¼ cup oatmeal
1/8 cup chocolate chips
¼ cup dark cocoa
Mix. Nibble on the dough. Mix a little more. Eat more dough.
Roll into balls. Coat in coconut or chopped nuts (but if you're in MUST-HAVE mode, skip this step!) for pretty-ness sake. There, all finished. They're really good cold from the freezer too.
I'm actually eating one right now. Because it's the right thing to do.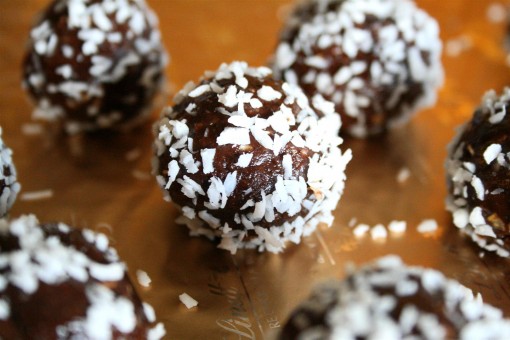 Nutritional Info (per ball): Cals: 132, Fat: 9g, Sodium: 98mg, Carbs:11.5g, Fibre: 2g, Sugars: 7g, Protein: 5g
Today: Sorry I didn't post yesterday! I just got back from a weekend of singing and from my brother's place. For those of you who are wondering, I'm happy to say that my niece Bethany is now out of the children's hospital and is at home! It's not all good news though, because the doctors have finally found what they believe to be wrong…and it's a very rare disease. We know God will carry my brother's family through this. She's getting therapy and the doctors are very hopeful…so that's encouraging. Thanks again for all your comments and kind words…
In other news…today I'm planning on doing my first run since my marathon. And then I saw this little questionnaire on Carrots N' Cake and thought it would be fun to fill out! Feel free to fill these questions out in the comment section…I love getting to know my readers!
Favourite treadmill? The big, strong ones that don't shake like there's an earthquake coming.
Favourite shoes? My blue Lunarglide Nike+ shoes.
Favourite running song? It changes all the time. Usually some sort of Christian worship song.
Favourite running fuel? Mandarin Orange GU – my newest favourite.
Favourite running accessory? My i-pod and my blue headband.
Favourite race distance? Half marathon. It's challenging, fun, and feels doable.
Favourite running memory? When I crossed the finish line doing my first marathon, just eight days ago. I'll never forget that feeling!
You might like these recipes:
Category: Desserts, Gluten Free, Kid Friendly, Recipes, Snacks, Vegan | Tags: chocolate, chocolate craving stopper, chocolate snack balls, healthy chocolate, healthy chocolate snack ball recipe, healthy ways to stop a chocolate craving, how to make chocolate balls, must have chocolate snack balls, quick snacks, recipes for chocolate cravings, snack ball recipe, vegan chocolate snack ball recipe 21 comments »