I love a simple smoothie. A banana. Some almond milk. Maybe a little cocoa and I'm all set up for a happy meal.
However, I love how smoothies can be a vehicle for extra nutrients. When I have a smoothie, I usually try to add a least one "superfood" to get that extra boost of vitamins/minerals in my diet.
Superfoods are a bit of a buzz word in the food blogging community. There is a lot of controversy regarding supplements and superfoods as to whether or not they are necessary in the diet or if they're just a waste of money.
Here's what I think – "Superfoods" are nature's medicine. While I think you should get your nutrients from the food you eat…I believe there's a place for foods that are a little extra special. God has created every food for a specific purpose.
If you're low in niacin…God has given us nuts to help supply our bodies' need for it. Maybe you need more vitamin A than what you're getting in your diet…then we can eat spirulina. Perhaps you're run down…then we need extra cold-fighting nutrients to helps us ward off that sickness.
Foods can have a part in healing our bodies. The so called "superfoods" can be part of keeping our body healthy.
Bottom line: Get your nutrients from the whole foods you eat and don't rely on these "magical" superfoods. They're not essential in your diet, BUT they can helpful!
Soooo…back to my original topic…since I love adding superfoods to my smoothies I wanted to share some of my favourite additions:
Chia seeds – Aside from the fact that they get so stuck in my teeth, I love these seeds. They keep you full, have a ton of fiber, gets rid of toxins, prolongs hydration, increases endurance levels, strengthens the immune system, and lower cholesterol and blood pressure. I love to make chia seed pudding! Mmmm…
Coconut water powder – I just discovered this from Nature's Happiness. I had NO clue such a product existed! You know how so many healthy recipes or smoothies call for coconut water. I don't have time to crack up a young coconut so I can drink it's electrolyte rich water every day. I'm SO so excited about this….all you have to do is put a teaspoon of powder into a glass of water and boom! Coconut water.
Coconut water is full of electrolytes, minerals, potassium, B-complex vitamins, and help with digestion. It's the perfect sports drink!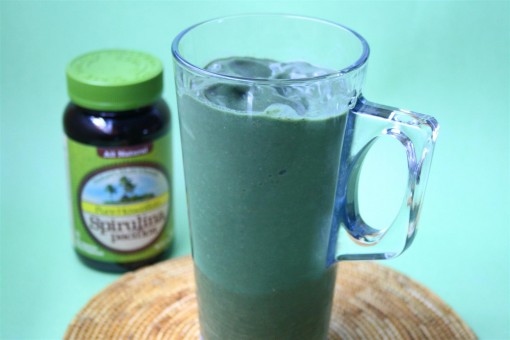 Spirulina – I'm SO obsessed with this one and I take it every single day. Either in powder or tablet form. It's high in vitamin A, plant based protein, and minerals. I tend to be hormonally imbalanced and so this is what keeps me balanced. Read more about it here.

Maca – this helps with energy and regulating hormones.
Lucuma – this super powder is a gold mine for potassium, calcium, magnesium, iron, and phosphorus.
Cacao nibs – These are chock full of magnesium, mood lifting benefits, antioxidants, increases circulation, helps cholesterol levels, helps satisfy PMS cravings, and helps appetite control. I like cacao nibs because they are yummy though…I just eat them straight. Most people find them too bitter, but I luuurve them!
Superfruit blend – This is a new product I found from Nature's Happiness. This superfood blend is for more than smoothie concoctions, I really like it stirred in cottage cheese (or yogurt). Just something for that little extra antioxidants and vitamins! It's got a yummy fruit flavour so it's perfect for sweetening plain yogurt instead of  going crazy with the fruit flavoured yogurts (that are loaded with sugars).
Is there something you love to add to your smoothies to make it extra SUPER? What do you think about superfoods?
Category: Healthy Living | Tags: are superfoods necessary, benefits of aloe vera, benefits of maca, best place to get superfoods, cacao magic smoothie, chia seeds, chia seeds pudding, coconut water, coconut water health benefits, coconut water powder product, colourful palate smoothies, detox, detoxing superfoods, good sources of fiber, health benefits of cacao nibs, health benefits of coconut water, health benefits of lucuma, how to make smoothies superfoods, how to take superfoods, lucuma, natural view on superfoods, natures happiness review, natures multivitamins, navita products, navita superfood products, should we eat superfoods, smoothie pictures, spirulina, what is spirulina, what superfoods should I take, where can i buy coconut water, why coconut water is good for you, why we should eat superfoods 10 comments »