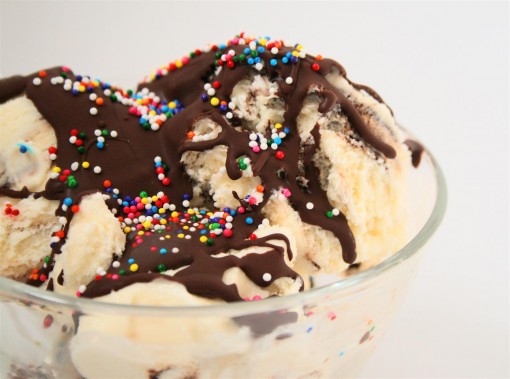 Aside from Colourful Palate, I also do some recipe developing for another site. The other day, I was in the middle of creating a recipe and I needed some chocolate sauce. I wanted to use the store-bought Magic Shell, but then I realized we had ran out.
I read the list of ingredients on the back of the bottle of Magic Shell and thought, "I can totally make this."
I actually wasn't sure it would totally turn out. However, I was almost giddy with excitement as I poured the warm sauce over a bowl of ice-cream and watched as it hardened almost instantly. I took a bite and couldn't believe that it tasted EXACTLY like the store-bought version – a crispy, crunchy chocolate shell suddenly melting to a silky, creamy taste in your mouth. However, it lost several bad ingredients and preservatives and is significantly cheaper to make.
The secret to it hardening so magically is actually the coconut oil! I tend to think it's an EXTRA magical treat because it takes so little effort and only two ingredients! I'm looking forward to trying it on frozen bananas and frozen yogurt. Serves 12 (around 1 tablespoon per serving).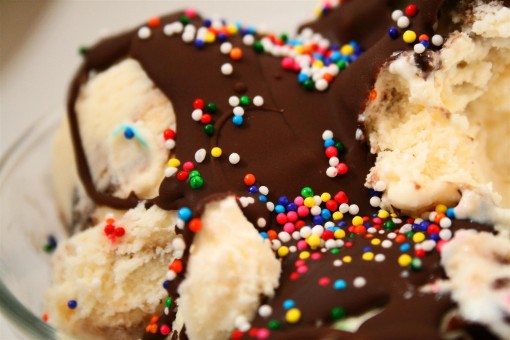 Chocolate Magic Shell
1/2 cup chocolate chips
2 tablespoons coconut oil
On the stove, melt the chocolate chips on the lowest heat until it is melted. Stir in the coconut oil. Let it cool. Serve it on your ice cream as a topping and enjoy! Note: Do not store it in the fridge as it will harden.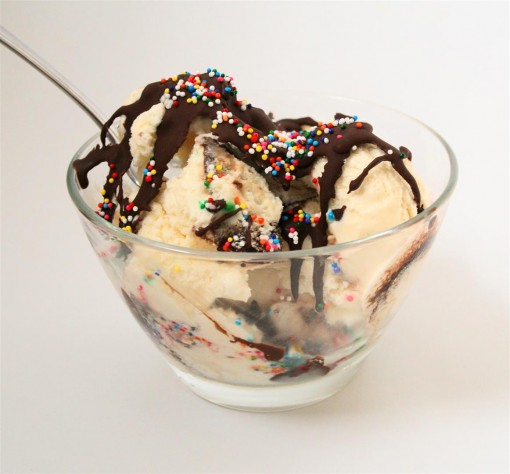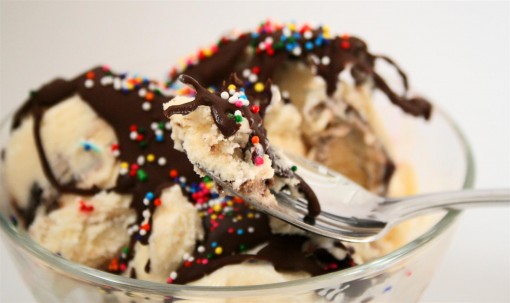 What a perfect way to enjoy these last days of summer! I try to eat healthy most of the time, but I will never give up ice-cream! They say food doesn't make you happy, but I'm pretty sure it's a lie. Ice-cream makes me very happy, haha! Sorry for all the pictures, but seriously, when it comes to ice-cream I get over excited and I couldn't choose my favourite shots!
Are you a fan of Magic Shell? What's your favourite kind of ice-cream?
You might like these recipes:
Category: Desserts, Gluten Free, Kid Friendly, Recipes | Tags: best sauce for ice cream, coconut oil, easy way to make chocolate sauce, fun ideas for ice cream, hardening chocolate sauce recipe, healthier ice cream toppings, heathy magic shell recipe, homemade chocolate sauce that hardens, homemade magic shell recipe, how to make your own magic shell sauce at home, ice cream fun, ice cream topping, ideas for ice cream toppings, magic shell sauce recipe 10 comments »