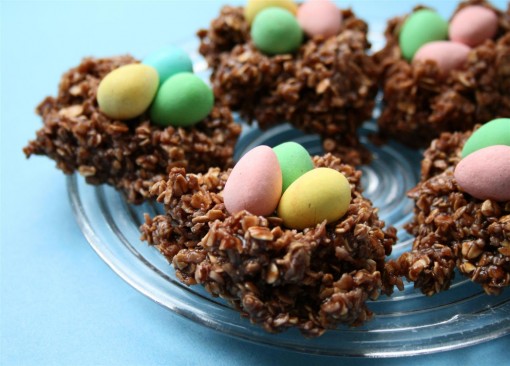 Hey guys! I can't believe Easter is just around the corner. Happy thought.
Another happy thought…only a couple more weeks of my courses and I'll be free! I am ridiculously excited about this. I'm also excited about these little goodies…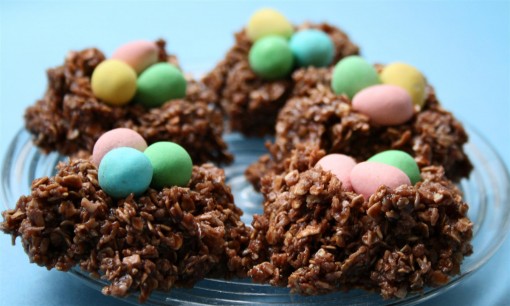 These no-bake oat cookies have always been a family favourite and one of the first cookies I ever made as a child. I revised the recipe to make it healthier and turned them into cute bird's nest for Easter!
Bird's Nest Cookies
1 cup organic sugar
¼ cup almond milk
¼ cup coconut oil
1 tbsp. cocoa
¼ cup organic peanut butter
2 cups quick oats
1 cup unsweetened coconut
½ tsp. pure vanilla
Small chocolate eggs
Mix the sugar, milk, oil, and cocoa together. Bring just to a boil, stirring constantly.
Remove from heat and stir in remaining ingredients.
Drop by spoonful onto wax paper. Let cool (they will harden as they cool). Make little indentations in each cookie and add 2-3 chocolate egg candies on top. Enjoy!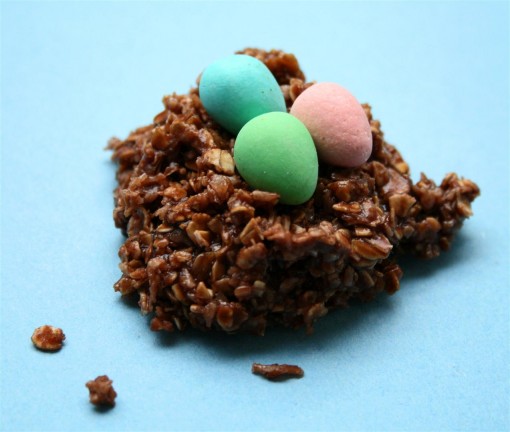 This is a great recipe for kids to help you make…
Floor Hockey
As for the floor hockey tournament we had on Saturday, it went well…it was awesome to just hang out with friends and play hard. Our team definitely did the best we've done in the last 3 years, so that's something to be excited about. Accident prone me, turned both of my ankles in the game (yes, both of them) and now I have elephant ankles. Oh well, at least I played hard enough to earn them. Last year's floor hockey tournament had me in the ER because we thought I had cracked my ribs and I couldn't breathe. Anyway, it's stupid. Whenever I get hurt, it's because I did something silly like tripping. The ground I walk on hates me.
So no working out for me this week…the thought is ridiculous anyway since I'm barely tripping downstairs.
FitFluential
On another note, it's Kelly Olexa's birthday! Most of you know, I'm an ambassador for FitFluential…well, she is the founder of this amaaaazing company and she is equally amazing. I love her vlogs, her sense of humor, and her brilliant schemes. Happy Birthday Kelly!
So what are you doing for Easter? Are you familiar with FitFluential?
You might like these recipes:
Category: Dairy Free, Desserts, Gluten Free, Kid Friendly, Recipes, Snacks, Vegan | Tags: birds nest cookie recipe, chocolate oatie cookie recipe, easter cookies, easter snacks, healthy birds nest cookie recipes, healthy easter ideas, healthy freezer cookie recipes, healthy freezer cookies, healthy no bake cookies, no bake cookies 21 comments »