I remember the first time I tried to cut a young coconut. I had a dull knife (and couldn't find a sharp one), but I was determined to crack that nut! Turns out, it was hard, but after butchering and chopping away at it…it finally worked.Rule number one. Use a knife that works. The butter knife isn't a good option.
Rule number two.
Cut a triangle shaped notch on the top of the coconut. You might need to "stab" it a couple times. And please, please be careful!
Rule number three.
Now drain the coconut, upside down, into a jar or glass to empty the water out. Save it! It's incredibly good for you! It is LOADED with electrolytes…and is the absolute best for liquid hydration during exercise!
Rule number four.
Turn the coconut on it's side. Stab it again (again, please be careful!) and then slice the whole top of the coconut off.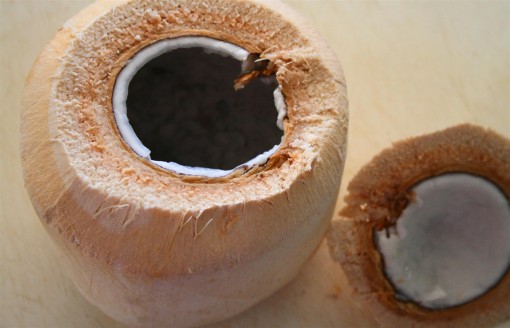 You did it! Now scoop out the insides with a spoon (the meat is quite soft) and enjoy as is or in a recipe!
Note: There are other ways to cut young coconuts…but I've found that this is the easiest way for me!
As you can see, I enjoy eating it right out the coconut. I think it's a refreshing tropical treat. As you can also see, this is me when I was really blonde.
Anywhoo…
Now, if you're not the type who likes eating it straight…you might want to try this smoothie! I love it because it takes like a Tropical Strawberry Sorbet. I guess since all smoothies need names, I'll call it that.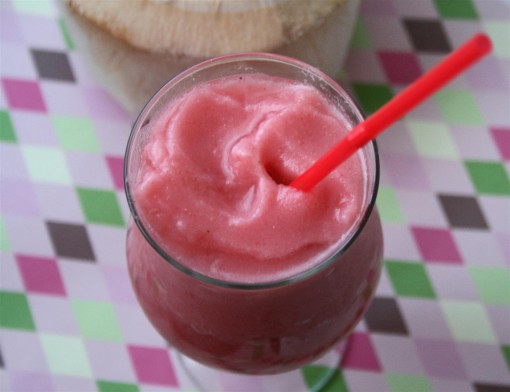 Tropical Strawberry Sorbet (smoothie)
Meat of 1 young coconut
½ cup young coconut water
½ frozen organic strawberries
½ tsp. pure vanilla
2 tsp. agave nectar
5 cubes ice
Whiz up in your blender and then pretend you're on the white beaches of Hawaii. Well, we all can dream, right?
Today:
Right now I'm in a hotel in the states. We're taking a loooong trip to see a dear friend get married! It's nice to get away from the studying for a few days and just chill!
Besides, I do so love a good love story. Especially when it happens to a special friend!
Have you ever tried a young coconut? What are you doing this weekend?
You might like these recipes:
Category: Breakfast, Dairy Free, Drinks & Smoothies, Gluten Free, Healthy Living, Recipes, Vegan | Tags: eating young coconut, how to cut a young coconut, raw young coconut smoothie, technique for cutting a young coconut, tropical sorbet, tropical strawberry smoothie, tropical strawberry sorbet, young coconut 9 comments »