This morning was all dark and moody with a light, but insistent rain pounding on my window. It's still raining now…and I love it. These are my absolute favourite days…where it's overcast and there's a constant tap tap on the roof. It makes me want to just curl up with a quilt and draw, journal, or read with a cup of hot cocoa by my side. Fall is in the air. And today is the last day of August.
That said, I wanted to share one of my favourite new recipes! It's just the best way to start this new cozy autumn month off! I call it my "Best Evaaaa Vegan Chilli"! Maybe that's a bit of an egotistical way of starting a post…but seriously, it's the best chilli I've ever eaten. I couldn't stop taste testing. Okay, I wasn't taste testing…I was picking away with a lack of self-control. Give credit to the spices. Or something…anyway, it was good.
This chilli is actually a completely balanced meal all by itself. It has the carbs, protein, fiber, veggies, and healthy fats that you need for a meal, actually more than enough. For once serving of this chilli you're getting 21 grams of protein and almost 15g of fiber (a daily goal to shoot for with fiber is 25g). That being said, at dinner, I still served it up with some homemade, warm cornbread and a fresh salad from the garden with balsamic dressing.
I soaked my beans overnight and cooked them up in the morning before I started on the chilli, but you can easily skip this step and used canned beans that are already cooked. It's up to you. As for the tomatoes, I just thawed out some frozen tomatoes from last year's harvest.
Best Ever Vegan Chilli
1 TB grapeseed oil (or olive oil)
2 onions
2 carrots
3 celery sticks
½ cup tomato paste
3 cups chopped tomatoes
½ cup sundried tomatoes*
1 cup cooked pinto beans
2 ½ cups cooked kidney beans
1 can (4 oz) mushrooms
1 cup liquid vegetable broth
¼ cup tomato sauce
¼ cup organic sugar
Dash red pepper flakes
2 tsp. cumin
1 tsp. organic oregano
2 tsp. Braggs soy sauce
½ tsp. chilli powder
*I used the oil-packed sundried tomatoes. To save on calories, you can pat off some of the oil with a paper towel or buy the dry sundried tomatoes (if you do the latter, you'll need to soak these for a while so they're soft).
Start by placing the grapeseed (or olive) oil in a big cooking pot. Add the carrots, celery, and onions and cook for about 7 minutes or so until all the veggies are tender.
Now add all the rest of the ingredients and cook until everything is piping hot. This serves 8.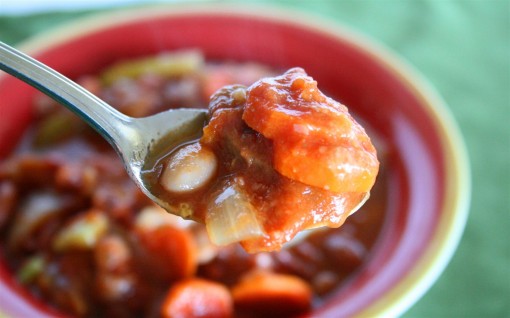 Nutritional Information (per serving, based on 8 servings): Cals: 375, Fat: 3g, Sodium: 146mg, Carbs: 69g, Fibre: 15g, Sugars: 12g, Protein: 21g
What are some of the cozy things you look forward to in the fall time? Do you like your chilli super spicy or mild?
You might like these recipes:
Category: Dairy Free, Gluten Free, Main Dishes, Protein, Recipes, Vegan, Vegetarian | Tags: addicting chilli recipe, autumn, best ever vegan chilli recipe, fall, healthy chilli, healthy chilli recipe, high fiber chilli recipe, high protein chilli recipe, how to make vegan chilli, recipes for autumn, recipes for fall, vegan chilli, vegan chilli recipe 11 comments »