I'm learning that the less I eat sweets or dessert the less I crave them…but I'm not gonna lie…I still get cravings for it! But I think I'm starting to learn how to beat those pesky cravings.
Tonight I had plain yogurt (put in the freezer a while) mixed in with Truvia and a little bit of semi-sweet chocolate chips. Everyone else had cake and ice-cream. I win! Seriously though, it really does help with sugar cravings.
Or else I make a healthy dessert. Like these…
Healthy Peanut Butter Freezer Cookies
Or maybe my Vegan Vanilla and Strawberry Milkshake...
OR…there's my latest craving buster is another way to get protein in. Yup…you knew I'd be doing a protein recipe, didn't cha? I made this recipe a couple days ago for a little sweet to end lunch with. With smaller glasses, it serves 3. It's coconut and chocolate…and protein. All good, right?
Chocolate Coconut Smoothie
1 young coconut, just the meat
1 cup raw, unsweetened almond milk*
1 tbsp. cocoa
3 tbsp. chocolate hemp protein powder**
1 ½ frozen bananas
Pinch sea salt
3 packets Truvia (or other healthy sweetener)
6 ice cubes
*I used this almond milk recipe
**Or just use original hemp protein powder, doesn't have to be chocolate flavoured
Whiz all those ingredients into submission. Now what I did for a garnish was dip the rims of the glasses in chocolate syrup and then dipped them again into a bowl of shaved, unsweetened coconut. It's pretty and elegant…and it gives an extra little coconut flavour with each sip! Enjoy!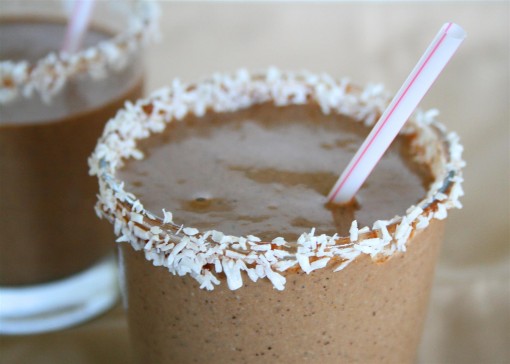 Note: This time I didn't post the nutritional facts like I usually do…the program I use doesn't understand what young coconut meat is, lol…and I want to make sure that my nutritional info is as accurate as possible. But nutritionally, this is a super healthy recipe…it has your healthy fats, protein, fibre, fruits, and chocolate. To me, that's pert near to perfect. *smile*
What do you like to pair chocolate with? Raspberries? Nuts? I think the only thing I wouldn't pair chocolate with would be broccoli. It goes with almost everything, right?
You might like these recipes:
Category: Dairy Free, Drinks & Smoothies, Gluten Free, Kid Friendly, Protein, Recipes, Vegan | Tags: chocolate, chocolate coconut protein shake, coconut, protein desserts, protein shake, protein shakes that double as a dessert, sweet, vegan chocolate coconut protein shake, vegan protein shakes 19 comments »