I'm pretty sure that yesterday (and the day before!) was the hottest day on the planet. It was so blazing hot, I felt like the air was thick enough to cut with a knife. I guess I'm just being a wimp because I'm not used to such heat…so I had think of ways to cool down. I drank a lot of water, wore shorts, sat in front of the fan, and ate a popsicle. (People, this is  how it's done!) Thanks to this crazy delicious frozen treat my brilliant sister whipped up, I survived what I'm certain must be the hottest day of the summer.
This is a great summer treat for kids, instead of those garbage freezies, slushies, or frozen chemical concoctions that are loaded with sugar. The yogurt gives it a lovely creaminess, which I like! I grew up with my Mom always making homemade popsicles for us and I have such good memories of wandering about the yard all sticky with orange juice. Actually, I never liked being sticky. That said, I think they are just a wonderful, healthy way to beat the heat, especially since they're like 30 calories each!
Outrageous Orange Popsicles
1 can orange juice concentrate, thawed
1 cup plain yogurt
2-3 packets of Truvia*
1 tsp. vanilla
¼ cup water
*Test taste to the sweetness to what you like. You can also use honey, agave nectar, or any other natural sweetener. I like Truvia, because it is all natural and calorie free!
Mix all the ingredients together and pour into your popsicle molds. Freeze. And it's that simple. With the molds we used this made 12 popsicles.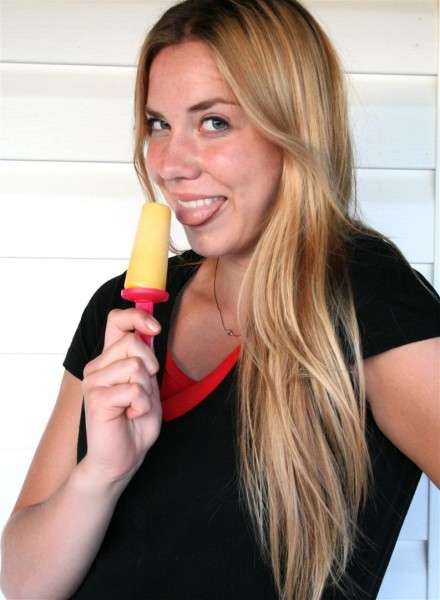 Nutritional Info (per popsicle): Cals: 31, Fat: 0g, Sodium: 15mg, Carbs: 6g, Sugars: 1.5g, Protein: 1.5g
Guess what I'm up to this week? I'm going on a little holiday with the family! We're going to a little cottage by a lake with some new friends and we're going to just hang out for a couple days. After that, our family band has to head out for a weekend of singing…so you might not hear from me for a few days. Rest assured I'm alive (unless my plans to learn windsurfing backfire!)…and probably having a blast swimming, tanning, and then off with the family band! We haven't gotten away in months, so this will be a nice change!
What's your favourite frozen treat? Have you had your summer holidays yet?
You might like these recipes:
Category: Desserts, Gluten Free, Kid Friendly, Recipes, Snacks | Tags: healthy creamsicle recipe, homemade orange popsicles, homemade popsicles, orange, orange pop recipes, popsicle recipe, recipes for easy popsicles, summer, summer popsicles recipe, summer treats 12 comments »