I consider myself now settled in my new place and feel I can finally put some effort into blogging.
Not that this took any effort to create…or eat.
This recipe was created in honour of the upcoming day of love. It serves two. Both of which servings I will probably eat myself. It is said that the secret of a good relationship is sharing everything…so I do…I share with myself. On Facebook, your relationship status does include the "single" option. So according to this famous social media platform, single is a form of a relationship.
Sarcasm and general cynicism aside, this cheesecake parfait can be made as a dessert or an indulgent tasting, weekend breakfast. There's no sugar, loads of fresh fruit, and it's fairly low calorie. I used Greek yogurt because that's what I always use…and because it's high in protein compared to other yogurts…so this is a balanced breakfast (or dessert) in a glass. You're welcome.
Raspberry Cheesecake Parfait
1 cup frozen raspberries
1 tbsp. sour cream
1/2 cup cream cheese, low fat
3 packets Truvia*
Pinch pink Himalayan sea salt
1 tsp. pure vanilla
1/2 cup Greek yogurt, plain
1 peach, chopped
1/2 cup plain yogurt mixed with vanilla stevia**
Optional: Granola or nuts, for topping
*I use this stuff.
**Feel free to use any yogurt that you love. I just prefer to keep my food sugar-free and lower carb.
Directions: Put all ingredients, except last three, into the blender. Blend until smooth.
Get out your parfait glasses and layer cream cheese mixture, yogurt, and the cut up peach (or any other fruit you like). Top with raspberries and/or granola. Please note that I don't like things really sweet, so if you need to add some extra sweetener, do so.
Nutritional Info (per serving, without topping): Cals: 316, Fat: 11.5g, Carbs: 51.5g, Fibre: 6g, Protein: 13.5g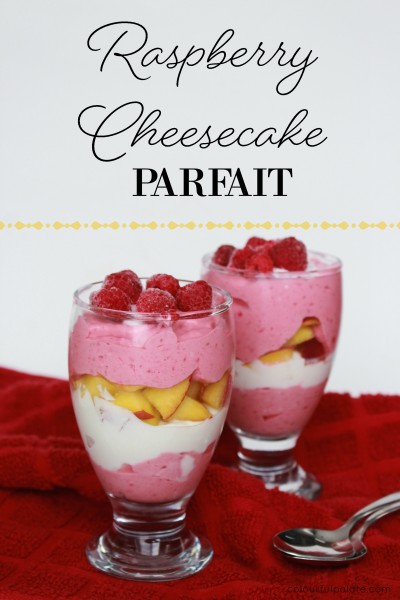 Plans for V-day? Do you like eating sweet things for breakfast?
You might like these recipes:
Category: Breakfast, Desserts, Gluten Free, Kid Friendly, Protein, Recipes | Tags: cheesecake parfait, healthy valentines recipes, no sugar valentines parfait trifle, raspberry breakfast trifle, sugar free valentines desserts, thm friendly breakfasts 5 comments »