So Christmas presents. That's a thing.
I don't know what's wrong with me this year, but somehow it doesn't "feel" like Christmas yet. I feel very unprepared and not quite in the holiday mood yet. We've put our tree up, it snowed last night, and I'm going to an ugly Christmas sweater party tonight. Yet, I'm still not in the Christmas mindset. Maybe I need to be playing Crosby 24/7 and I'll get in the swing of things.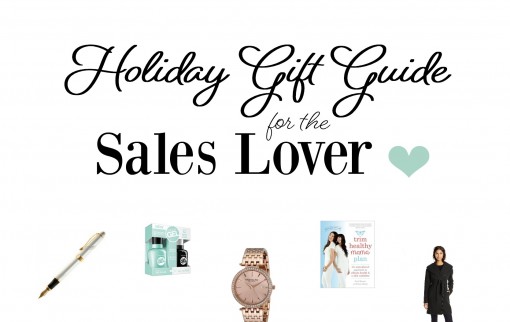 Anyway, back to gift shopping. Because of the whole "not feeling Christmas yet" thing…I'm late…as usual. So for those who might be racking their brains thinking of what to get for presents, I compiled a couple lists for you. However, these aren't just good ideas…most of them are fabulous brands/gifts for RIDICULOUSLY cheap! I love getting a good deal and I'm pretty good at scouting them out! Let's start with the stocking stuffers!
1. Burt's Bees Essential Beauty Kit – I've been a fan of Burt's Bees for years and I like that their products are, for the most part, really natural and smell so good! This set includes a travel size Soap Bark Deep Cleansing Cream, Hand Salve, Milk and Honey Body Lotion, Beeswax Lip Balm (my fave!) and Coconut Foot Cream. All for $10!
2. Rose Gold Plated Cube Necklace – Lately I have become obsessed with rose gold. If someone ever wants to propose to me, I'd like the ring to be rose gold…thanks. However, for the moment, I'm fawning over this necklace. It's normally $25, but is on sale for $10!
3. Bulow® X450 Kurve Vanilla Fountain Pen – My love for typography has become a little hobby for me and I'm always looking for new pens to try!This gorgeous pen is not only beautiful, but is a for a pretty crazy deal! It's regularly $50 only for $15!
4. Sally Hansen Miracle Gel – Top Coat and Blue Hue – In the last year, I've decided to take better care of my nails (and stop using them as mini crow bars), so usually, about once a week to paint my nails. For the last couple months, I've been using the Miracle Gels and love how easy they are to pain, how great they look, and how long they last compared to other polishes. This colour is a limited edition and so pretty! This set is only for $10, which is great, as I've spent $10-12 on each bottle I've gotten so far. There aren't many of this colour in stock left, so if they're out, you might want to try the colour I'm currently wearing!
5. Lily's Sweets 40% Creamy Milk Chocolate Bar – Milk chocolate sweetened with stevia! Say no more! I want this in my stocking.
6. Assorted Natural Chewing Gum by Simply Gum – The flavours all sound delicious (Mint, Cinnamon, Ginger, Fennel, Coffee, and Maple) and these won't cause cavities or flood your body with artificial sweeteners.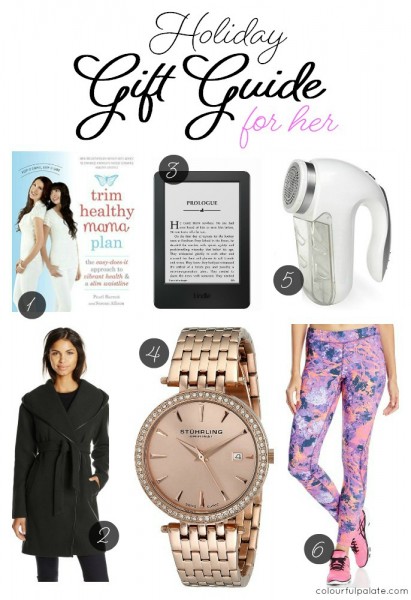 1. Trim Healthy Mama Plan: The Easy-Does-It Approach to Vibrant Health and a Slim Waistline – If you want to know how I eat about 80% of the time, this is it. Highly recommend! On sale for $13, normally $20!
2. Calvin Klein Doubleface Wool Wrap Coat – Yes please! This is so beautiful! And guys it's only $135, regularly $270, that's $135 off!!
3. Kindle, 6″ Glare-Free Touchscreen – If the lady in your life likes to read, but is trying to downsize stuff, this is a perfect win-win. Personally, I don't really want to collect stacks of books I'll only read once or maybe twice…I'd rather use a kindle and be a minimalist. I'm still kicking myself for not getting this on the Black Friday sales, but this is still not a bad price! $70
4. Stuhrling Original Women's Swiss Quartz Rose-Tone Watch – Again with the rose gold. This watch is absolutely breathtaking with it's Swarovski Crystals and 16k rose gold-layered link bracelet. What is crazy is that it is normally $425, but it's on sale for $80! I told you I know how to find the deals! This rose gold Michael Kor's watch is a steal too!
5. SmartCare Cordless Fabric Shaver – The secret to making your clothes look spanking new forever! This is definitely on my wish list! Normally costs $70, but is on sale for $45.
6. Champion Women's Absolute Workout Legging – Not only are these cute and feminine, but I appreciate the flatlock seams, stretch, and the moisture management technology wicks away sweat from the skin. Price ranges, but around $15.
What's on your wish list? If you could pick anything from this gift guide, which would you pick? Are you feeling in the "Christmas mood" yet?

Disclosure: This is not a sponsored post. However, these links are Amazon affiliate links of products I genuinely recommend and would get myself. This allows me to continue blogging and pay for my long list of smoothie ingredients. Thank you for your support! xo    
Category: Colourful Things | Tags: champion leggings, clothes shaver deal, guift guide for the classy lady, holiday gift guide for the sales lover, kindle, michael kors rose gold watch deal, sthurling swiss quartz watch deal Comment »