Growing up in "almost gluten-free" home made pasta a big deal. Tortellini, spaghetti, ravioli, and even good 'ole macaroni and cheese were special treats. This being the case, I may or may not have frequent cravings for pasta.
I don't believe in depriving one's self for something you want. Food is culture, community, and experience…and you should never skip something delicious because it doesn't "fit in" with your "diet". However, I save those experiences for occasions I deem special, when I'm out with friends, or traveling. My very flexible rule is to eat really well when I'm at home, or about 75% of the time. For me, that's eating a very low amount of sugar and lower carb lifestyle. It's how I genuinely like to eat, feel my best, and maintain my girlish figure (virtual wink).
Therefore, I love recreating some favourite "comfort foods". This is my newest favourite dish, using zucchini to recreated a southern French pasta dish.
It's a great way to use up all that zucchini from the garden!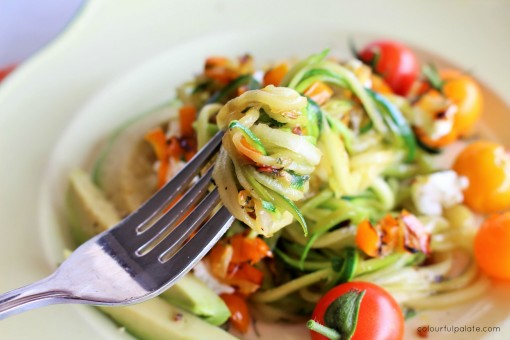 You will need a julienne, which is just a cheap kitchen tool similar to a peeler! Serves 2.
Provence Zucchini "Pasta"
3 medium zucchinis
1 orange pepper
1/2 Walla Walla onion
4 tbsp. extra virgin olive oil
parsley*
crushed red pepper*
salt and pepper*
1/2 tsp. herbs de Provence**
12 yellow cherry tomatoes
avocado
goat cheese
*You will notice that I don't often specify exact amounts of spices in my recipes. I rarely measure them, but just sprinkle the spices in until it "feels right". I know that can be annoying to the "more precise", but honestly…you can do it. Just a sprinkle.
**What makes this collection of spices so "French" is the addition of lavender. You can either just buy a jar of it (it's easy to find because it's a popular spice) or else make your own mix by combining 1 tablespoon of marjoram, rosemary, thyme, savoury, and lavender. This will make about 1/2 cup of a mix. You can also throw in some basil and fennel seed for a new variation.
Preheat 3 tbsp of the olive oil in a large non-stick pan. Reserve 1 tbsp for later. Cut your pepper and onion until very fine and add to oil. Cook until the onion is browned and slightly translucent. I like to use Walla Walla onions for this as it provides a milder, softer flavour.
While the peppers and onion are cooking, julienne all of your zucchini into "noodles". The center of the zucchini is not good for noodles, so just do all of the sides. There's no need to peel the zucchini if you wash it well. Set aside.
Add the spices and cherry tomatoes to the frying pan. Continue to cook on medium heat until the tomatoes start to look a bit wrinkled and "roasted". Scrape pan and set the oil/veggie mixture aside.
Now you can use that same pan to lightly warm your "noodles". Preheat your last remaining tablespoon of olive oil and add your zucchini. Once heated and lightly cooked toss in a bowl with your oil/veggie mixture.
Serve on a plate with slices of avocado, crumbles of white goat cheese, and freshly ground pepper. I also added a few more fresh cherry tomatoes from the garden.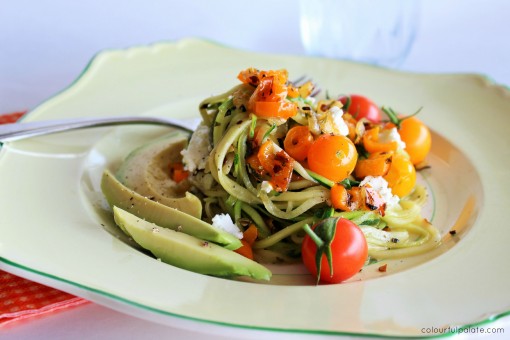 As is, it's a vegetarian recipe, but if you're looking for more "staying power" just fry up a chicken breast to serve with it. Perfect.
Have you tried zucchini noodles yet? What is a spice combo you love?
You might like these recipes:
Category: Dairy Free, Gluten Free, Low Carb, Main Dishes, Recipes, Vegetarian | Tags: french pasta dish recipe made healthy, how to make herbs de provence spice mixture, how to make noodles out of zucchini, low carb thm pasta recipes, thm main dish recipes, zoodles how to, zucchini pasta with goat cheese and yellow cherry tomatos One comment »