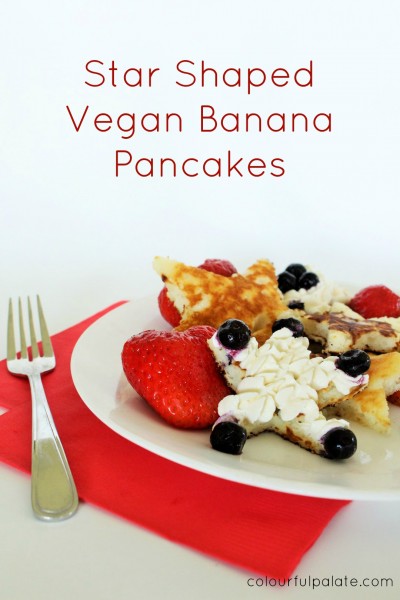 So I'm Canadian, and yet, a few days ago I never found the time to put together a patriotic Canadian recipe. However, I did have time yesterday…but Canada Day had already passed. Oops.
Soooo…I reminded myself that the demographics of my readers are largely American, and decided to make something that celebrated the Fourth of July. I'm nice like that.
Just so it's on the record, Canada you're my favourite. United States of America, you are my second favourite and my best neighbour. That being said…here's a little breakfast idea to celebrate the stars and stripes.
Just make my pancakes (they're just whirled up in the blender!) and simply cut them into stars (with a cookie cutter!). There's seriously nothing easier. Then I topped them with freshly whipped cream (sweetened with stevia, with a little added vanilla) and added strawberries and blueberries.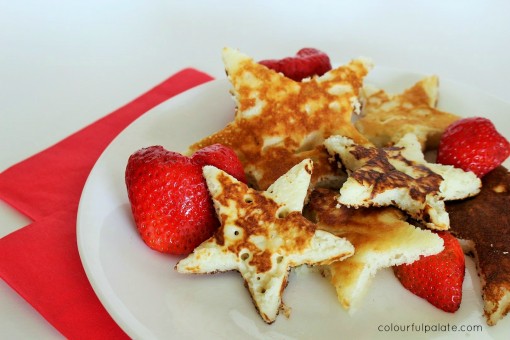 My Vegan Banana Pancake recipe has been pretty popular, because it's delicious (just saying…yah, you want them).
SO MAKE these delicious, fluffly bites of heaven and do them up fancy! This is the best way to start tomorrow – with a patriotic breaky to fuel you for a weekend of fireworks and barbeques.
I also put the whipped cream in a piping bag and made "mini stars" all over the pancakes.
Then I made sure they were kid approved.
My niece and nephews seemed to think they were pretty great. Gaah, they're cute.
Happiest of Fourth of July to you!
What are your plans for the Fourth? Have you ever celebrated Canada Day?
You might like these recipes:
Category: Breakfast, Dairy Free, Kid Friendly, Recipes, Vegan | Tags: cute ideas for july 4th, egg free and dairy free pancake recipe, kid breakfast ideas for the fourth of july, star shaped pancakes for the fourth of july, vegan banana oatmeal pancakes 5 comments »