I'm always going on about spirulina and how much I love it. I take it (or some form of it) every day. I'll take it in a tablet form or else put the powder in a smoothie, mix it with grapefruit segments, or add it to juice. Ever since I've started taking it some months ago I've noticed
awesome benefits…and now I'm a lifelong spirulina addict.
In case you don't know much about spirulina, here are some fabulous facts about it:
It's considered to be one of the world's most powerful superfoods
It's ridiculously high in protein – its 60-65% protein (compared to say fish, which is up to 35% protein)
It's very high in chlorophyll – which builds healthy blood, promotes better circulation, and helps reduce inflammation – so basically it helps everything…I think of chlorophyll as liquid energy
Boosts energy
Heals your body
Helps you deal with cravings – less cravings for junk food
Boosts immunity
Detoxes your body (even helps with weight loss!)
(my favourite brand from Nutrex Hawaii)
Why I like it?
Once I started taking it several months ago, I haven't had as much as a cold, my immunity is definitely stronger. I've noticed an increase in energy. My body is more balanced and even my skin is better (spirulina is nature's beauty vitamin!). I just feel better.
Plus, call me crazy, but I also just love the colour…the deep, rich aqua shade of green…it makes such a pretty smoothie. I often add spinach to my smoothie too and then they become even greener…what can I say? I like green.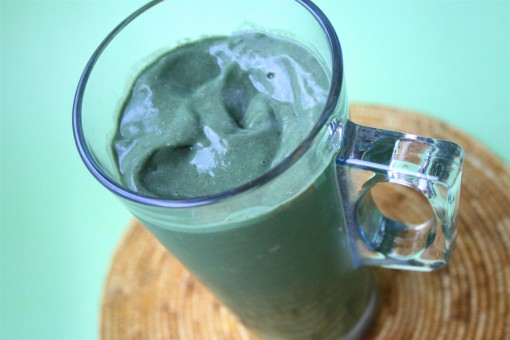 Because I'm obviously obsessed with this superfood, I was talking to the good folks at Nutrex Hawaii the other day where we finalized me becoming their first ambassador! I'm so excited because I'm passionate about spirulina and I'm glad this will allow me to share it more with people.
In fact, that sharing starts right now…in celebration of this fact, one of you will get to win spirulina powder AND spirulina tablets! Yay! ALSO, they are giving my readers a special, HUGE deal if you're interested in their products – 25% off! Just be sure to use this code for the deal: CP25
Note: At any time, you can check my new Favourites Things page to find where I get my spirulina. However, this deal only lasts till the end of January.
To enter do one or more of the following (for each entry comment below and let me know you did it!):
Follow SuperNutrients on Twitter
Tweet about the giveaway and say, "I want to #win @SuperNutrient spirulina from @colourfulpalate because I want extra superhero powers http://tinyurl.com/axcymt9 #giveaway"
Go to Nutrex's site and tell me something you learned
Subscribe to my site
This giveaway is open to US and Canada and will require a street address. It will end on January 20th. Good luck and go eat some spirulina!
Congratulations Kacie for winning!
Category: Giveaway, Weight Loss | Tags: best brand of spirulina, cut cravings with spirulina, does spirulina help with energy, does spirulina help with weight loss, how to does spirulina improve your health, nutrex hawaii spirulina, nutrex hawaii spirulina review, spirulina clears skin, spirulina giveaway, spirulina increaes energy, what is spirulina, what's so good about spirulina, where do I buy spirulina, why spirulina is good for you, why you should eat spirulina 74 comments »