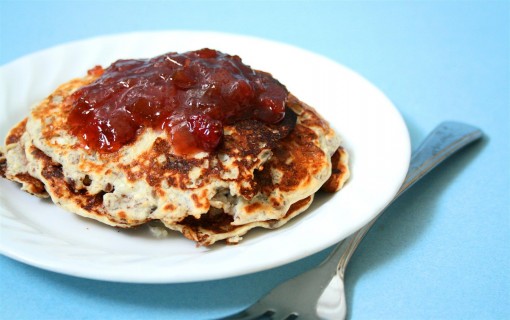 Since July was all about the smoothies, I'm going to switch things up for this month. I've been wanting to share this recipe with you for a while. I am so obsessed with protein pancakes. So flipping good (yes, that was a pun).
This recipe is especially nice because you can get really creative with toppings – from cut up fruit, syrups, peanut butter and bananas, yogurt, or pureed fruit. It has tons of protein, lots of fiber, and practically no carbs. Serves 1.
Vanilla Protein Pancakes
1 scoop vanilla protein powder*
½ tsp. vanilla extract
1 organic egg + 1 egg white
1 tablespoon organic flaxseed, ground
¼ cup cottage cheese
1 tbsp. psyllium husks
*I used FitMixer vanilla protein powder
Heat your non-stick skillet and add a little coconut oil. I used a fork to blend everything together and poured it into the pan. Flip when one side is cooked and do the other. The batter is thin and will make quite a few pancakes.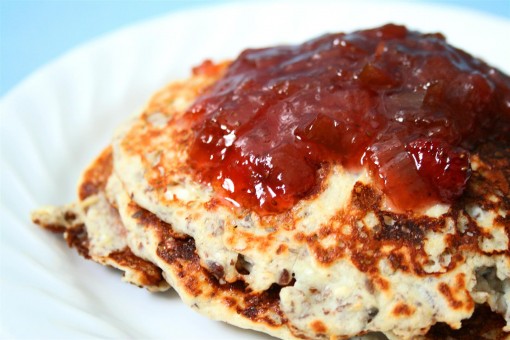 I topped the pancakes with homemade organic rhubarb and strawberry jam. I actually put it in the skillet with a little water (after I made the pancakes) to warm up it up and thin it out for a lovely fruity topping.
You can change the texture from a more "melt-in-your-mouth" to a thicker, firmer pancake by omitting the cottage cheese and replacing it with another scoop of protein powder.
Well, I'm gone for several days with music touring, so my next post will be a guest post from someone who has some great tips!
What's your favourite pancake topping?
You might like these recipes:
Category: Breakfast, Low Carb, Protein, Recipes | Tags: protein pancake made with whey protein, protein pancake recipe, vanilla protein pancake recipe 11 comments »