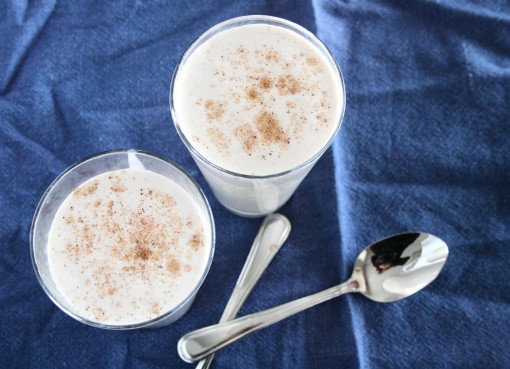 I've decided to start a new feature here on Colourful Palate. It's called "Fresh Focus Friday" where I focus on a healthy food, why it's so great for us, and then a recipe to go with it!
So today's feature is about coconut oil…and when Tropical Traditions contacted me about doing a review about it, I thought this would be a perfect opportunity to say why I'm so in love with coconut oil.
I feel like I'm learning so much about healthy fats right now. As mentioned in a previous post, I went to a Natropath (natural doctor) a couple weeks ago and I was informed that I don't eat enough healthy fats. She said that if I ate a high-fat, protein filled, and low-carb diet comprised of healthy foods that my body/hormones would be more balanced. The part about low-carbs and protein didn't surprise me…my body feels best on that kind of diet…and that's generally what I try to do. However, the high-fat thing surprised me. She gave me "permission" to eat limitless healthy fats like extra virgin olive oil, avocado, butter, cream, and coconut oil (all preferably organic). Really?
SO ever since I got back from her office, I've been trying the high-fat thing and reading a lot about high-fat (healthy) diets. I'm becoming a convert. Why? I feel really, really good. I'm not as ravenous as usual; yet I'm not snacking as often. I seem to have more energy. I'm also pretty sure I haven't gained any weight.
Here's a couple books I really recommend for learning more about the benefits of fat! I'm reading them both right now…and enjoying them immensely.
Now onto the coconut oil thing….
Why I'm crazy about coconut oil!
Weight Loss – Coconut oil actually stimulates the thyroid which promotes weight loss! Also, it increases your body's metabolism by removing stress on the pancreases, which burns more energy (calories!). I'm all for that!
High Smoke Point – Coconut oil is a very stable oil. Heating a lot of healthy fats on the stove will actually turn those healthy fats into trans fats, but coconut oil can withstand a lot more heat! At our house, we try to just use coconut oil or butter on the stove.
Energy – The special thing about coconut oil is the medium-chain triglycerides (MCTs) which are actually a form of saturated fat. However, our body processes these MCTs much better than from fat that doesn't have these MCTs. Within moments of these MCTs being eaten, they are converted by the liver to energy. The digestion of coconut oil is effortless. This makes it a perfect mid-workout energy gel (mixed with some natural sweetener, a pinch of salt, and maybe some lemon juice!) Coconut oil is great for athletes!
Immunity – Coconut oil actually strengthens our immune system. A tablespoon of this tropical oil is a great idea when you're feeling a flu coming on! Who knew? I'm planning on taking a tablespoon daily just for illness prevention, especially since it's flu/cold season right now!
A spoonful of coconut oil keeps the doctor away!
Healing Powers – Ages ago, I broke out with a strange, red, raised rash. It covered a large area and I had no idea how I got it! But I smothered the rash with coconut oil that night and the next day it was literally gone…without a trace that there had even been a rash! It was crazy. I now use it as lotion for body and my face.
There's so much more about coconut oil that I love, but at least there's a taste of some of the great things it can do for us!
(Note: These are health claims…they may or may not be true. Check with your own natural health professional to see what works best for you.)
I'm so grateful that Tropical Traditions sent me a jar! Literally, I have never tried such great coconut oil! It is the most natural coconut oil brand I've found and I am a big fan for life. They process their oils as naturally as possible, producing a top-notch "Gold Standard" product. I love the light coconut taste (don't worry; it's not noticeable if you use it in your chocolate chip cookie recipe!).
I also really admire the company as well! They are not stingy! I mean, look at how they package it! They filled the coconut oil right to the brim! I've noticed a lot of health companies fill their jars/boxes three-quarters or even half full…and it always makes me feel like I've paid too much…Tropical Traditions treats their customers right with great ethics!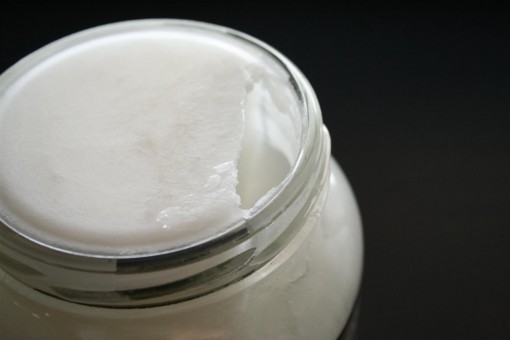 I love that they use a glass jar. I don't like the idea of a lot of our health foods being stored in plastic…there's a million reasons it's bad for us health-wise! I say, the less plastic the better!
I've been using this oil for cooking, baking, and my raw smoothies & treats. But I also love to use this product for my body/face lotion and my eye makeup remover. I've even tried washing my face with it! (I just learned that coconut oil is a good toothpaste because it's antimicrobial, so that's up next to try!)
All in all, I love Tropical Tradition's coconut oil. It's the best coconut oil I have ever tried and I will keep on using it! (We even have big bucket of this stuff stocked in the pantry!)
Whew! That was a big post…now for the important part! The coconut oil recipe…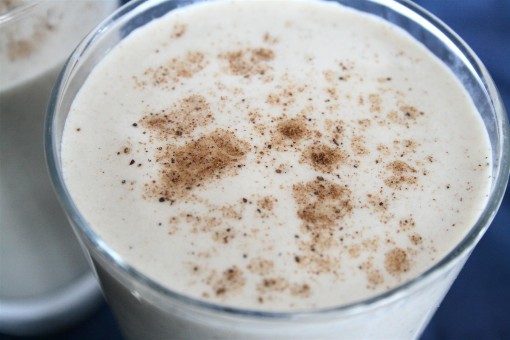 Holiday Eggnog Protein Shake
½ cup coconut milk
½ cup almond milk, unsweetened
1 tray ice
1 tbsp. raw coconut oil
2 packets Nustevia
1 tsp. nutmeg
½ tsp. cinnamon
½ tsp. guar gum
1 tsp. vanilla
2 scoops vanilla protein powder
Blend this all up! Garnish each serving with a sprinkle of nutmeg! Serves 2.
I love using NuStevia so much! Calorie free and sugar-free…

I had this as my lunch the other day and this is seriously the creamiest shake I've ever had in my life! It was kind of epic. Enjoy this low sugar, low carb, and high-healthy fat shake guilt free!
Nutritional Info (per serving, without protein powder)*: Cals: 350, Fat: 36g, Sodium: 19mg, Carbs: 8g, Fiber: 4g, Sugars: 4.5g, Protein: 3g
*Take note that calories/fat will differ depending what kind of coconut oil you use.
Hope you enjoyed this first feature of Fresh Focus Friday! I had fun getting it together!
Here's a couple links if you're interested in learning more about coconut oil:
Health Benefits of Coconut Oil
Why Coconut Oil is Good for You
Disclaimer: Tropical Traditions provided me with a free sample of this product to review, and I was under no obligation to review it if I so chose. Nor was I under any obligation to write a positive review or sponsor a product giveaway in return for the free product.
You might like these recipes:
Category: Breakfast, Dairy Free, Fresh Focus Friday, Natural Body Care, Protein, Recipes, Snacks, Vegan, Weight Loss | Tags: coconut oil, coconut oil for weight loss, coconut oil lotion, coconut oil makeup remover, coconut oil skincare, Eggnog Protein Shake Recipe, Eggnog Shake recipe, healthy eggnog milkshake, healthy eggnog protein shake, the health benefits of coconut oil, Tropical Traditions, why coconut oil is good for you 23 comments »