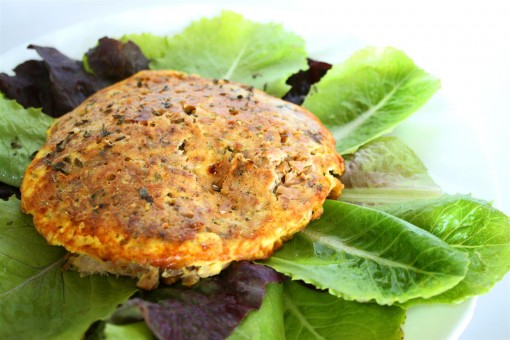 Okay. This is definitely a recipe you need to try. It's kind of the most amazing thing ever. I've been having it over and over for lunch lately because not only is it succulently delicious, it's probably the best recipe ever for cramming in protein. If you make a giant tuna burger out of it (which is usually what I do!) it has 48grams of protein. Yup.
I had been meaning to make up a tuna/salmon burger for ages and just hadn't gotten around to it. Then one of my guy cousins told me how he made his tuna burgers (my boy cousins are those kind of dudes who love their protein!) Thanks to his inspiration I finally made my own. And I'm stuck on them now.
This is really just basic tuna burger recipe. You can go crazy and use your imagination. Add chopped veggies. Spices. Fresh herbs. Melted ice cream. Okay…maybe don't go too wild. I keep making this (a little different each time) and this variation is my favourite.
I can't wait to try it with chicken, turkey, and salmon now…so many recipe waiting to happen.
Tantalizing Tuna Burger
1 can light, water packed tuna
1 egg
1/2 tsp. dried parsley
1/2 tsp. dried organic dried basil
1/2 tsp. Braggs soy seasoning
1 tsp. Thai spice seasoning
Mix all of the above ingredients in a bowl. Fry in a pan spritzed with olive oil until both sides are browned. Perfect. Serves 2.
Note: I sometimes just have protein for lunch, so in that case, I make one giant burger. I like to serve it on a bed of lettuce and dress it with balsamic vinegar.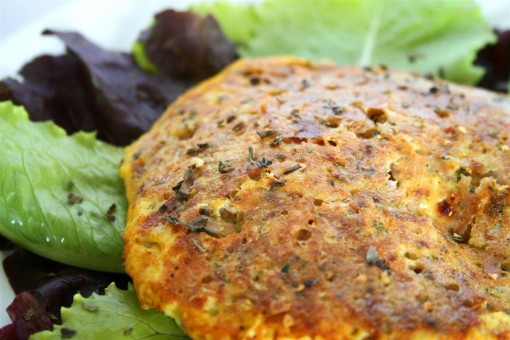 Nutritional Info (per two servings): Cals: 128, Fat: 3g, Sodium: 385mg, Carbs: 0g, Protein: 24g
Lately I've been playing a ton of volleyball…in fact, almost every evening. It's by far my absolute favourite sport…I'm so in love with it. Thankfully, I have a lot of friends that are crazy about it too, so we all have a blast when we get together! I think it's so much fun to do active, sports stuff with friends! An evening of games or dinner with friends is great too, but I think hanging out and playing sports is the cat's pajamas!
I have one special friend that instead of catching up over coffee we always go for a walk instead. Might as well get some real fitness in while we exercise our mouths! Every little bit counts…
Do you make your own burgers? Do you enjoy being active with friends or more relaxing activities?
You might like these recipes:
Category: Dairy Free, Gluten Free, Low Carb, Main Dishes, Protein, Recipes | Tags: basic burger recipe, basic tuna burger recipe, easy tuna burger recipe, fish burger recipes, healthy tuna burger, how to make a tuna burger, protein, summer burger recipes, tuna 12 comments »